More is more?
Posted by Sean Stangland on Wed, 05/07/2008 - 16:03
I have no idea why a Hollywood studio would greenlight a $100 million-plus adaptation of an animated series that has a cult following at best. And I really have no idea why said studio would release said movie at a butt-numbing length of 135 minutes.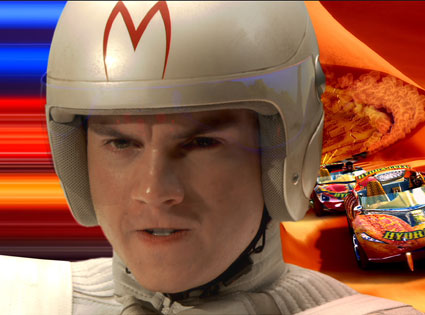 Here he comes, here comes (135
minutes of) Speed Racer!
Warner Bros.
To be fair, the running time of Warner Bros.' "Speed Racer" is short compared to many recent behemoth blockbusters ("Pirates of the Caribbean: At World's End" clocked in at 168 minutes), but I cannot imagine children sitting through more than two hours of candy-colored car races featuring characters their parents only vaguely remember. Even worse, the trailers reveal a movie that looks more artificial than anything George Lucas unleashed in the last 9 years; nothing about "Speed Racer" looks the least bit real (especially John Goodman's hairpiece).
One could assume we can "blame" Peter Jackson's "LOTR" trilogy or the "Harry Potter" flicks for the ever-increasing running times of our tentpole summer pictures, but I have to wonder if studios also think they have to give the paying customer more bang for his buck in this age of $10 ticket prices -- that can be the only explanation for the 143 minutes we spent watching "Transformers" last summer, right?

You'll probably need about 4 spare
hours to see the new "Harry Potter"
movie in November.
Warner Bros.
But with theater profits dwindling, and DVDs and Blu-Ray more popular than ever, it is apparent that the American filmgoer might value time more than money. Imagine how much time a family will have to invest to go see, say, "Harry Potter and the Half-Blood Prince" this November. Figure it takes 15-20 minutes to drive to and from the theater. Figure you get there 30 minutes beforehand to get decent seats. Then 15 minutes of trailers begin at the posted show time, followed by a movie that probably runs 150 minutes, if not more. You're talking a four-hour investment of time on top of the money you have to shell out for tickets, popcorn and Coke.
I can see this not being a problem for families hooked on "Harry," but who wants to invest this kind of time into a relatively untested franchise like "Speed Racer"? I don't, but the prospect of seeing a family-friendly flick from the geniuses behind "The Matrix" and "V for Vendetta" will get me in the theater somehow. But can Warner Bros. reasonably expect families to give them anything bigger than, say, a $35 million opening weekend?
Comments ()
We are now using Facebook comments to offer a more inclusive, social and constructive discussion.
Guidelines:
Keep it civil and on topic; no profanity, vulgarity, slurs or personal attacks. People who harass others or joke about tragedies will be blocked. If a comment violates these standards or our or
terms of service
, click the X in the upper right corner of the comment box. To find our more, read our
FAQ
.